Home

/

Bordeaux en Primeur 2018
One city, two river banks. Very different estates, very different wines…
This is the Left Bank
The famous classification of Bordeaux that was created in 1855 and is still used today, only comprises the left bank - from the tip of the northern Médoc to south of the city of Bordeaux to Sauternes. It also includes Chateau Haut Brion, originally part of the Graves appellation, now known as Pessac-Léognan.
The Médoc peninsula sits above a cold Atlantic ocean to the west and the mighty Gironde estuary to the east. Both bodies of water having a large impact on the climate and therefore the varieties planted and vintage personality. Because it's more temperate, Cabernet Sauvignon is king, making up the majority of the blends. In fact, when people hear the term "Bordeaux wine" most assume a Cabernet Sauvignon dominance, and it's not difficult to see why. Some of the world most famous names - Lafite, Mouton, Margaux, and their reputations - based on price, as much as quality - are the benchmark expressions of the variety and a showcase of the region.
This is the Left Bank in 2018
As we know, a swath of hail stormed across the left bank in May & July, practically paving an autoroute between Pessac and Margaux. Had such veracity arrived last week, it would have certainly wiped out thousands of professional buyers and wine critics on the Quai de Chartrons for the Union de Grands Cru (UGC) primeurs tasting.
Luckily that wasn't the case and the conditions improved… vastly. Thus inspiring Decanter's Gavin Quinney to state that this vintage "will be remembered with dismay by some châteaux but as one of the greatest by others." The concluding word by James Suckling this week sufficiently anoints it "an exceptional vintage".
Our Left Bank's picks for 2018
Smart buyers will spread nets wide with so many great wines to choose from, but the blue ribbon for 2018 goes to Saint-Estèphe. Harmonious, balanced and homogeneous as a region. They created some of their best ever wines and with the highest yields of the 2018 vintage. Beating strongest was at the appellations red heart, Calon-Segur, where director Laurent Dufau has steadfastly improved quality in his 6 years at the helm. It remains at an envied price. For now.
As we head south down the Médoc's route D2, Cos d'Estournel excels, as does Mouton owned d'Armailhac and both Pichon chateaux in Pauillac. Then in Saint-Julien, Leoville Lascases (again), Ducru Beaucaillou, and Beychevelle inspire. Palmer, which did not produce a second wine this year (Alter Ego) with lilliputian yields of 11 hl / ha, still explodes with fresh fruit and a texture that is both powerful and velvety. The first growths in this exceptional vintage will be exactly that, so make your intentions clear now, and take our advice - Magnum's taste, age and look better.
In Pessac-Leogan, the elegance of Veronique Sanders once again strikes at the core of Haut-Bailly (her steal of a second wine has a new name this year - Haut Bailly II). While UGC president Olivier Bernard has produced, perhaps the greatest Domaine de Chevalier rouge ever.
"Freshness and tension are here to balance great richness… powerful but fresh, full-bodied but delicate - paradox are the cornerstone of the greatest achievements"
Olivier Bernard, Domaine de Chevalier
Expect more commentary like this over the next few weeks, with the term 'Balance' at the heart of it all. After all, it's what we all strive for in life and wine, making everything complete, whole... or in the case of these wines and the critics alike, an ability to give us everything.

CLICK HERE to download the full offer as a DF to print and browse.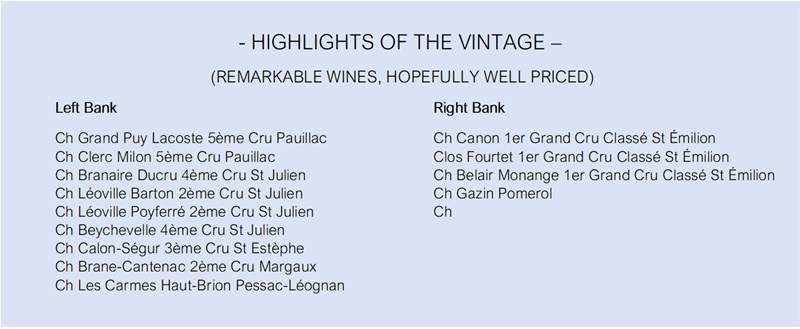 All Results
Showing
1-24
of
101
results