Rhone Valley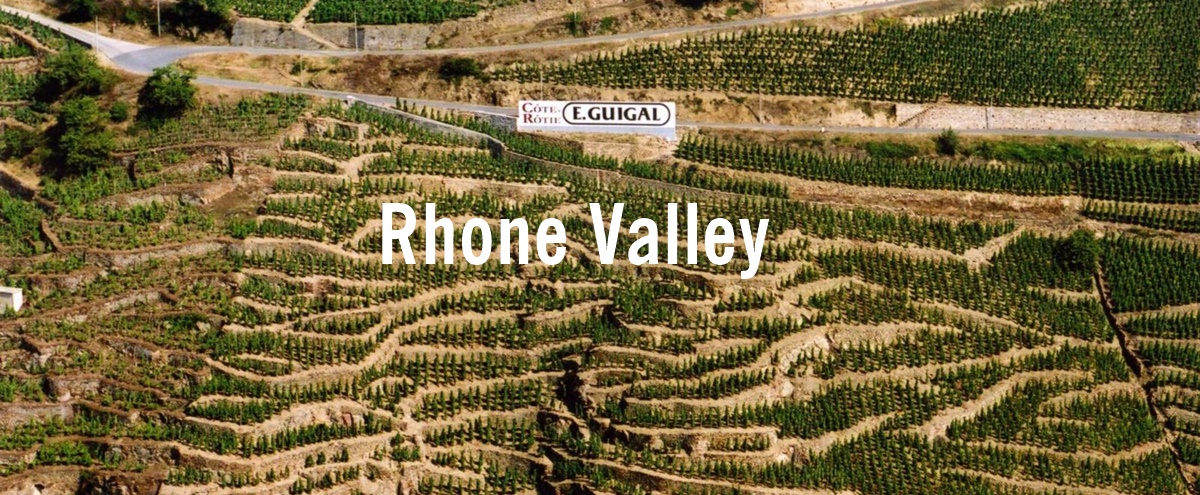 Northern Rhone
The Rhone Valley is kept in check by a sweeping Mistral wind that is tunnelled from the north of Rhone to the open and flatter southern Rhone. The Rhone river runs through the valley dividing the schist and granite soils.

The Northern Rhone is a difficult place to grow grapes, the slopes are steep to work and costly. Most of the wines grown are premium styles and its production is tiny when compared to Southern Rhone. Syrah hits new heights here in the form of spicy delights.

Red or White? Mainly red with a small amount of white made. And there is a blend where red and white is co-fermented together in Cote Rotie. Syrah with a splash of viognier - a rarity!

Grapes
White: Viognier, Marsanne, Roussanne
Red: Syrah

Styles
This is spicy syrah land - black olives, smoked meats, cooking spices and heady florals are common tasting descriptors. And the tannins can be firm and fine in youth, becoming slender with age. The whites are richer and fleshy, viognier is the queen of hedonism.

Favourite Producers
Guigal, Coursodon, Pierre Gonon, JL Chave, Bernard Faurie, Balthazar, Stephane Ogier
----

Southern Rhone
Grenache reigns supreme in the south, although it is commonly blended with Mourvedre and syrah. Planted throughout the region, Grenache loves the warmth and sunny exposition made available to it in southern Rhone. Look out for the galette pebbles found in Chateauneuf du Pape - these heat up during the day and the extra warmth overnight continues to ripen the grapes on the old bush vines.

From rosé to affordable weekday pizza wines (Cotes du Rhone blends) through to ageable beauties like Chateauneuf du Pape, Grenache is a chameleon of grapes centred around vibrant red fruits and slippery tannins.

Red or white? Red and a little rose. There's also a small amount of a fortified white called Muscat de Beaume de Venise
Grapes
White: Muscat a Petits Grains
Red: Grenache, Mourvedre, Syrah

Styles
Cotes du Rhone are the cheerful wines you want to reach for mid-week. Their fleshy and fruit nature make them deliciously enjoyable and they won't burn a hole in your pocket. The pinnacle of Grenache is reached in Chateauneuf du Pape wines. These have built-in structure and can age gracefully for many years. Look out for Village or Cru wines such as Vinsobres, Vaquerays, Gigondas as these are a happy medium between the bookend styles.

Favourite Producers
Font du Courtedune, Rayas, Beaucastel, Chateau de Fonsalette, Marcoux, Mont Redon
---
Search results for "Rhone Valley"
Showing
1-24
of
181
results
Rhone Valley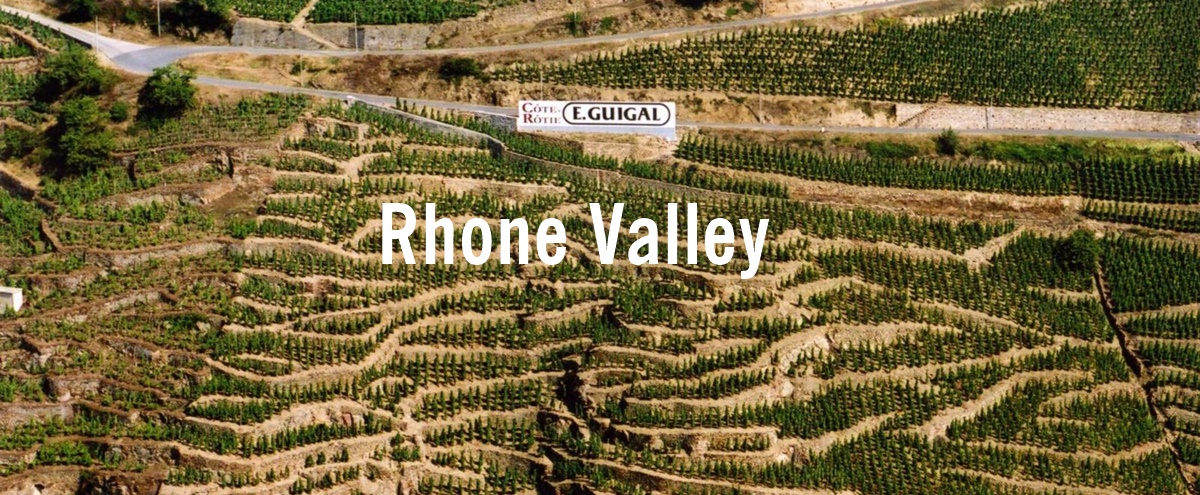 Northern Rhone
The Rhone Valley is kept in check by a sweeping Mistral wind that is tunnelled from the north of Rhone to the open and flatter southern Rhone. The Rhone river runs through the valley dividing the schist and granite soils.

The Northern Rhone is a difficult place to grow grapes, the slopes are steep to work and costly. Most of the wines grown are premium styles and its production is tiny when compared to Southern Rhone. Syrah hits new heights here in the form of spicy delights.

Red or White? Mainly red with a small amount of white made. And there is a blend where red and white is co-fermented together in Cote Rotie. Syrah with a splash of viognier - a rarity!

Grapes
White: Viognier, Marsanne, Roussanne
Red: Syrah

Styles
This is spicy syrah land - black olives, smoked meats, cooking spices and heady florals are common tasting descriptors. And the tannins can be firm and fine in youth, becoming slender with age. The whites are richer and fleshy, viognier is the queen of hedonism.

Favourite Producers
Guigal, Coursodon, Pierre Gonon, JL Chave, Bernard Faurie, Balthazar, Stephane Ogier
----

Southern Rhone
Grenache reigns supreme in the south, although it is commonly blended with Mourvedre and syrah. Planted throughout the region, Grenache loves the warmth and sunny exposition made available to it in southern Rhone. Look out for the galette pebbles found in Chateauneuf du Pape - these heat up during the day and the extra warmth overnight continues to ripen the grapes on the old bush vines.

From rosé to affordable weekday pizza wines (Cotes du Rhone blends) through to ageable beauties like Chateauneuf du Pape, Grenache is a chameleon of grapes centred around vibrant red fruits and slippery tannins.

Red or white? Red and a little rose. There's also a small amount of a fortified white called Muscat de Beaume de Venise
Grapes
White: Muscat a Petits Grains
Red: Grenache, Mourvedre, Syrah

Styles
Cotes du Rhone are the cheerful wines you want to reach for mid-week. Their fleshy and fruit nature make them deliciously enjoyable and they won't burn a hole in your pocket. The pinnacle of Grenache is reached in Chateauneuf du Pape wines. These have built-in structure and can age gracefully for many years. Look out for Village or Cru wines such as Vinsobres, Vaquerays, Gigondas as these are a happy medium between the bookend styles.

Favourite Producers
Font du Courtedune, Rayas, Beaucastel, Chateau de Fonsalette, Marcoux, Mont Redon
---
Search results for "Rhone Valley"
Showing
1-24
of
181
results